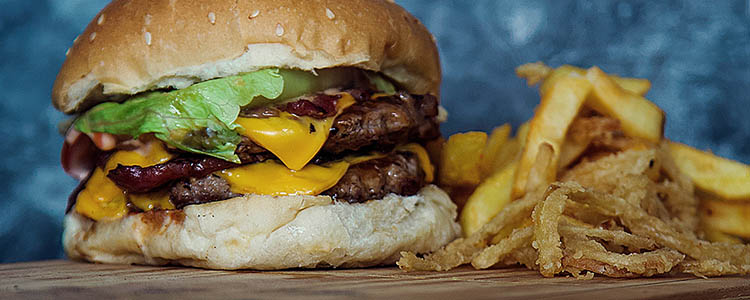 1 in 3 Brits won't walk just ten minutes to collect their takeaway, new data uncovers
Everybody loves a takeaway. They're the perfect option for when you don't want to cook, fancy a treat, or have been dreaming about that curry all week long… but undeniably they're expensive.
We surveyed 2,000 hungry Brits to find out how far they're willing to go (literally) to save money on their takeaways. The survey data found that 75% of Brits are unwilling to walk just twenty minutes to collect a takeaway; even with these twenty short minutes covering the walk there and back!
Our survey found that 13% of Brits prefer to pay for delivery instead of walking ten minutes or less to collect their food.
Even more shockingly, only a quarter of all Brits would only walk up to ten minutes total to avoid incurring delivery fees, meaning only 25% of the nation would be willing to walk five minutes to save money.
The attitude is clear- most people would rather pay a surplus for their food over five minutes of exercise.
The survey found that even those who were walking the furthest still weren't walking far, with Gen-Z being the most willing to trek for their takeaway for an average of 16.6 minutes.
Regionally, Londoners are willing to walk the furthest, on average for 15.9 minutes- even though central areas of London boast the highest frequency of takeaways.
To inspire Brits to save money on takeaways whilst getting creative in the kitchen, we have created two recipes inspired by some of the most popular takeaways in the UK. Below you can find "fakeaway" instructions for a DIY Indian takeaway and takeaway pizza.
1 / 3
Indian Fakeaway
Saag Aloo:
 Heat your choice of oil in a large pan, then add in 1 finely chopped onion, garlic cloves and 1 tbsp chopped ginger, then fry for 3 mins.
 Next, stir in 500g potatoes (cut into 2cm chunks), 1 finely sliced chilli, spices to taste, salt and pepper, and continue cooking/stirring for 5 mins.
 Add a splash of water, cover and cook for 8-10 mins.
 Check the potatoes are ready by spearing them with a knife. If soft, add 250g spinach leaves and leave to wilt in the pan.5. Take off the heat and serve.
Chapatis:
 In a large bowl, stir together flours and salt. Use a wooden spoon to stir in olive oil and water to make a soft, elastic dough.
 Knead the dough on a lightly floured surface for 5-10 mins until smooth.
 Divide the dough into roughly 10 pieces, roll each into a ball and let rest for a few mins.
 Heat a frying pan until it's hot and then grease lightly.
 On a floured surface, roll out the balls of dough into thin tortilla-like pieces of bread.
 When the pan begins to smoke, place your chapati on it. Cook until the underside begins to brown (around 30 secs), flip and cook on the other side.
Vegetable Curry:
 Heat the oven to 200C/180C Fan/Gas Mark 8.
 Toss your potatoes, squash and aubergine with 2 tbsps of curry paste and oil in a large roasting tin. Season and then roast them for 30 mins.
 Meanwhile, fry onions in oil in a large pan until golden.
 Stir in the remaining curry paste and cook for a few mins.
 Add passata, coconut milk and 100ml water, then simmer.
 When veg is roasted, add to sauce with peppers and courgettes.
 Simmer for 15 mins or until tender. Season with coriander and serve.
Chicken Korma:
 Add 1 chopped onion, garlic cloves, and a roughly chopped piece of ginger into a food processor and whizz into a paste.
 Tip the paste into a frying pan with 3 tbsps of water and cook for 5 mins.
 Add half of your korma sauce and cook for further 2 mins.
 Stir chicken breasts, cut into pieces, into the sauce.
 Add 200ml chicken stock, the rest of the sauce and ¼ tsp of golden caster sugar.
 Mix and then cover and simmer for 10 mins or until chicken is cooked.
 Remove the korma from the heat and season, then serve.
2 / 3
Fakeaway Pizza
Five cups of all-purpose flour (£0.45)
1 tsp of instant yeast (£0.59)
1.5 cups of warm water
1 tablespoon of sugar (£0.65)
2 tablespoons of olive oil (£1.99)
1.5 teaspoons of salt (£0.27)
1 Jar of passata (£1.15)
Grated mozzarella cheese (£1.49)
Grated cheddar cheese (£1.49)
Your choice of toppings to decorate
Optional choice of replica Garlic and herb dip (£0.49)
Method:
 Combine flour, yeast, warm water, sugar and salt in a large mixing bowl and stir
 Add in the olive oil after a few minutes, and continue to mix until a sticky dough ball forms
 Add in more water if the dough feels too dry, or more flour if it is too wet
 Remove the mixture from the bowl and knead out lumps by hand
 Divide the pizza dough into four equal portions and pop into freezer bags, greased with oil
 Freeze the dough until it thickens (or keep frozen for future use)
 Around an hour and a half before baking, allow the dough to rise at room temperature
 Preheat oven to 220C/210C Fan/Gas Mark 8
 Roll out dough into pizza base shape and top evenly with marinara sauce, cheese and toppings
 Bake for 10-12 minutes in the centre of the oven
 Enjoy!
❮
❯
Representative Example: Amount of credit: £1200 for 18 months at £90.46 per month. Total amount repayable of £1628.28. Interest: £428.28. Interest rate: 49.9% pa (variable). 49.9% APR Representative. We're a fully regulated and authorised credit broker and not a lender