Garden Improvements on a Budget
It's a lazy Sunday morning. You push open the back door and feel the first sunrays of the day stroke your face. The birds tweet in the trees overhead. Dew-soaked grass tickles your feet as you pad contentedly across the lawn. You take a seat, a bowl of cereal in one hand, a mug of coffee in the other. That book you've been meaning to read? Go ahead, make a start! You close your eyes for a few seconds, relishing the total peace and tranquillity of your very own outdoor space.
Is it just us, or is there something really quite relaxing about sitting out in the garden? Immersing our senses in the simplicities of nature can really boost our mood. A 2022 survey revealed that 1 in 3 people with a garden spent time in it at least once a week to benefit their mental health and wellbeing. Over 7 million people have taken up gardening since the COVID-19 pandemic, with 63% of UK adults stating that the activity makes them feel less stressed.
Your garden – be it a tiny patio, a sprawling lawn, or an exotic rockery – should provide you with a place to reflect, unwind, and breathe. Maintaining a garden can be both time and money consuming, but with a bit of creativity and imagination, designing a sensational outdoor space can be done on a budget.
So fresh!
A lick of paint on your garden fence can provide your plot with instant fresh vibes. Feeling brave? Why not try a slightly bolder colour scheme? Fence paint can be purchased from as little as £10 in a variety of 'offbeat' shades, including green, red, and blue.
Flower bomb
Over the past couple of years, wildflower displays have shot up in popularity. Ideal for the time-short gardener, the beauty of wildflowers is that they're supposed to look somewhat chaotic! These low budget beauties entice bees and wildlife into your garden. One way to get started is by making your own 'seed bombs,' which could begin to bloom in just six weeks, depending on the time of year.
Make it evergreen
Strapped for cash and time? Say hello to the humble all-rounder! If you rarely find the time to work on the garden, you may choose to avoid flowers and shrubs that command regular care. Rather than forking out on more expensive, exotic looking species that you don't have the time to look after and may end up having to replace, invest in a few robust evergreen plants instead. Hardy plants that thrive under minimal attention can still look magnificent and produce a dramatic backdrop. Evergreen examples include holly, mountain pine, juniper, and laurel.
Grow on!
One savvy way to combat the rising cost of our weekly food shop is to start growing produce ourselves! You don't need a large vegetable plot to reap the rewards of home-grown delights – a few grow bags can convert your garden into a functioning personal food market. Potatoes, carrots, and radishes are all popular choices for grow-bag beginners. Research suggests that the average household could save up to £150 a year on shopping bills simply by growing peas and beetroot. Why stop at veg? Imagine if the next time you made pizza, rather than ransacking the cupboard for basil, you simply waltzed out and picked some, fresh from the garden?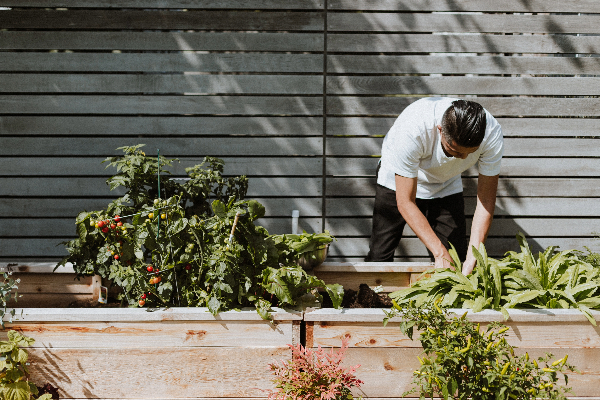 Take a seat
From comfy loungers to bang-on-trend sofas, outdoor furniture can add a personal and inviting touch to a garden. While the price of some furniture can set you back, affordable options can be found, and it definitely pays to shop around for a deal. Reasonably-priced garden furniture can sometimes be found at shops such as Aldi and The Range. Be sure to also check out second-hand sites, like eBay.
Waste not
Upcycling and recycling needn't be confined to the house – there are many opportunities to extend this trend to the outdoors. Chopped down a tree? Turn the discarded stump into a quirky side table for your patio! Had a merry night? Bottle corks make cool, rustic planter labels. Are you ready for possibly the most resourceful recycling tip of all? Rainwater! By using collected rainwater to nourish your plants and lawn, you are helping to reduce your household's water bill. For this reason, you may consider a water butt to be an investment. They can be found at shops such as B&Q from around £31. Additionally, rainwater is actually better for your plants as it lacks certain harsh minerals often found in main supplies. Making the switch to rainwater for gardening, car washing, and even toilet flushing purposes could save you up to 45% on your water bill.
See the light
Whether you've got friends round for a few drinks or you're simply kicking back and chilling with a good book, you can't beat nights under the stars. Transform your garden into an evening Eden with solar lighting. Solars collect light from the sun which is used to power them in the dark, saving you money on batteries and bills. From outdoor fairy lights to classy miniature lamps, there is something affordable to suit every taste. Instagrammable? 100%!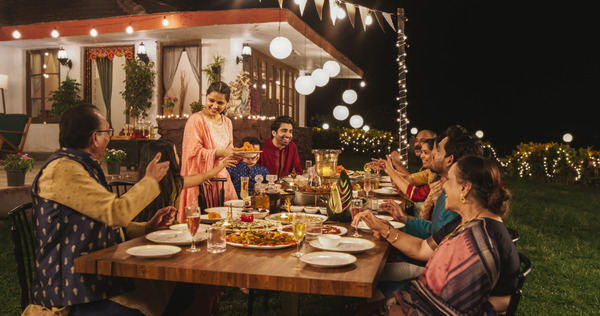 Unconventional uses
From striking mosaic pots to intricate ornaments, garden features can make for an eye-catching centrepiece. Gazing wistfully at the garden centre displays while wincing at the price tags? Don't worry! There are plenty of cheaper alternatives - and you'd be surprised how many may be already lying around your house or garage! Show-stopping planters can be fashioned from an array of zany items, including old wellington boots, wheelbarrows, bathtubs and toilets!
A bird's eye view
Research suggests that encounters with birds may have the ability to boost the mood of those with depression. You can encourage birds to your garden by hanging feeders. While feeders can usually be picked up from around £10, you can save money by making your own out of egg boxes. These may not be durable in the long term, but are easily crafted, and provide a fun activity for the kids to get involved in.
Smell the roses
Have a think about how you'd like your garden to look. Is a cosy outdoor reading nook your kind of thing, or would you prefer a fire pit and pizza oven combination, ideal for entertaining friends? The designing, constructing, and upkeep of a garden can be pricey, but we hope our tips have given you some inspiration as to how you can take care of the pennies while still fashioning a stunning space to call your own.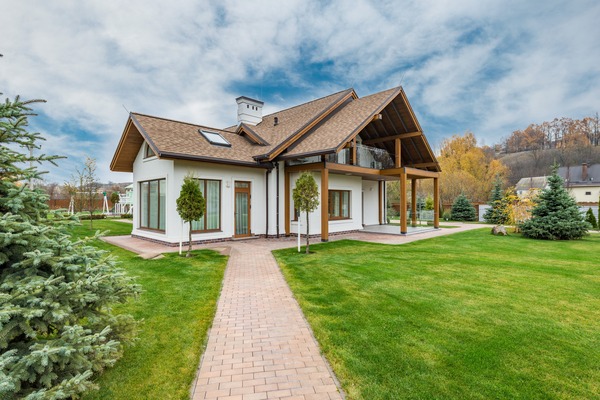 Representative example: Amount of credit: £1000 for 12 months at £123.40 per month. Total amount repayable of £1,480.77 Interest: £480.77. Interest rate: 79.5% pa (fixed). 79.5% APR Representative. We're a fully regulated and authorised credit broker and not a lender