Home Improvements on a Budget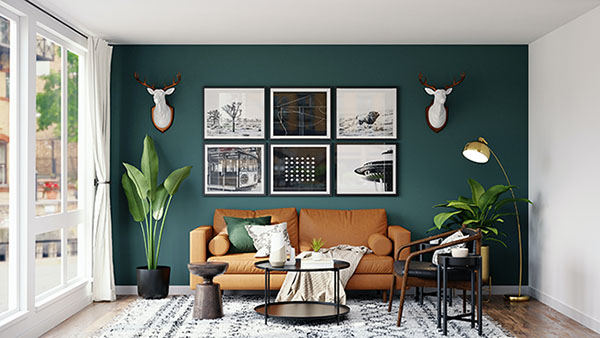 Our homes should be our sanctuary and our happy place: somewhere we can relax, unwind, feel safe, and totally be ourselves.
A house is a blank canvas, and we're the artist.
Homeowning can be really exciting, but there are certain things that nobody tells you about being responsible for your own place:
Contrary to popular belief, fairies do not come and empty the dishwasher during the night.
It is perfectly acceptable to have a floor-drobe as an adult. Okay, so maybe it's not, but is there a worse job than putting the washing away?
Dust settles at an extremely rapid rate – and by rapid rate, we're talking a matter of hours.
Kitchen roll disappears at an unexplainable frequency.
You can never have too many 'bags for life.'
Houseplants are not our friends. If you succeed in keeping your houseplants alive, you are winning at adulting (cacti and artificials don't count).
There is always something to be done, be it mopping the floor, putting new batteries in the clock, or hacking down overgrown ivy in the garden.
Everything costs money. Like, everything. Often a lot of money, too!
Houses guzzle our money, and that's even before we've taken the rising cost of mortgages and bills into consideration.
Picture the scene: you're lying on the sofa. Suddenly, you look around the room and decide that you've gone off it. Little things start to annoy you, and it's all you can focus on.
You wonder what on earth was going through your head when you painted that wall green.
It dawns on you - as you rush to stop your toddler from spilling a carton of orange juice – that you should have chosen a darker carpet.
Those paintings that you adored five years ago are starting to look a bit dated.
Most of us have been in this position, and once these thoughts are in your head, they can be hard to shift.
Many of us would love a new sofa, a kitchen refurb, or the opportunity to get the garden done, but sadly, very few of us can afford these expenses upfront, and saving up takes time.
Why not start by making a few low-cost, big-impact changes while you save for the bigger jobs? This way, you can refresh your space and fall in love with your home again, without having to worry about finances.
Little ways to spruce up your home on a budget
1. De-clutter
Hands up who has a hugely overspilling 'messy draw' in the kitchen? Is anyone absolutely certain what lurks in the darkest corners of the cupboard under the stairs? How many of us regularly shove things under the bed and then forget all about them?
It's time to declutter! You'd be amazed how much better you feel after a good clear-out.
Start with your wardrobes and work your way through the whole house. Blast out your favourite tunes to keep you motivated and make an afternoon of it. Be ruthless – if you didn't know you had it, or haven't used or worn it for over 12 months, it's probably time to send it to the charity shop.
Jubilee-themed paper plates? They can go in the recycling. A one-eyed Furby, retrieved from the depths of the attic? Bin. A never-worn cardigan, three sizes too big? Sell.
Earn yourself some extra cash by selling anything of interest on sites such as eBay or Vinted.
2. Banish the toy obstacle course!
Kid's toys all over the floor is a common gripe amongst parents. The final straw is when the underside of a foot meets the rough surface of a Lego brick.
Adding storage can really help to utilize space and instantly give your home a tidier feel.
An online search will reveal some really fab storage ideas that both you and the kids will love. For example, check out these cool Lego-style boxes, this adorable house, and these ultra-chic linen hanging baskets, all for under £40 each.
3. Home is where the bark is
Have you seen the trend of converting under-stair cupboards into cosy dog nooks? If not, Google 'under stair doghouse'! It's such an incredible way to make the most of every inch of space, all the while creating a relaxing haven your canine companion can retreat to.
That once-dingy cupboard could be converted into the perfect dog den for as little as £100.
4. Shake it up!
Sometimes, rearranging your furniture is all that's needed to shake things up a bit. Such a simple task can breathe life back into a tired room and make the world of difference.
Why not swap the position of the sofa and the armchair, or push kitchen stools against the worktop to create an awesome, makeshift breakfast bar?
The best thing about rearranging is that it's totally free, can give you those 'new home' vibes all over again, and can be done as often as you like!
5. Upcycle
When it comes to upcycling, the possibilities are wonderfully endless. Once you start, the ideas will just continue to flow. Why replace perfectly good items when you can try your hand at revamping instead, for a fraction of the price?
Bored of your oak kitchen chairs? Sand them down and paint them!
Give your old sofa a bit of TLC while you save for a new one by investing in a throw and a handful of vibrant new cushions. You might find that you love your sofa's new look so much that you don't even want a new suite anymore!
A three-seater fabric sofa from DFS could set you back anywhere between £399 and £2,499. We found several gorgeous throws and cushions at Dunelm, starting at £7 and £2 respectively.
A new-look sofa with all the trimmings for less than £20, and at least £379 saved? Yes, please!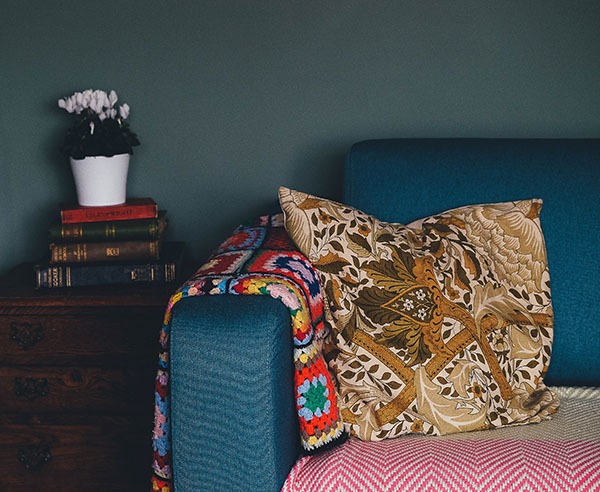 6. Repaint to refresh
A sparkly new kitchen is a common wish for many – but it's a desire that comes at a significant cost.
On average, people spend between £5,000 and £12,000 on a new kitchen in the UK. It's not just suave units and a fancy island that will set you back, either: the average cost of installation alone is around £3,500.
If your kitchen dreams are temporarily on hold, there are things you can do in the meantime to give that all-important illusion of refreshed newness. Painting your kitchen units is a great way to switch things up a bit.
Bored of plain white units? Why not go for a daring duck-egg blue shade instead? The same can be done with bathroom cabinets. Simple changes can make all the difference.
Kitchen and bathroom paint in a variety of inspiring colors can be purchased from places such as B&Q for just £8 – MASSIVE savings compared to the price of a whole new kitchen!
For a simple step-by-step guide to repainting your kitchen cupboards, click here.
7. The main feature
Fed up of looking at the same bland space? Have you thought about creating your very own funky feature wall?
Make a statement by injecting some color and pattern onto one of your walls, be it in the living room, bedroom, or hallway. From zany jungle prints to quirky monochrome designs – literally anything goes!
B&Q offer a wide range of wallpapers to suit every taste, starting at just £5 per roll.
A small cost for a wondrously dramatic addition to your beautiful home.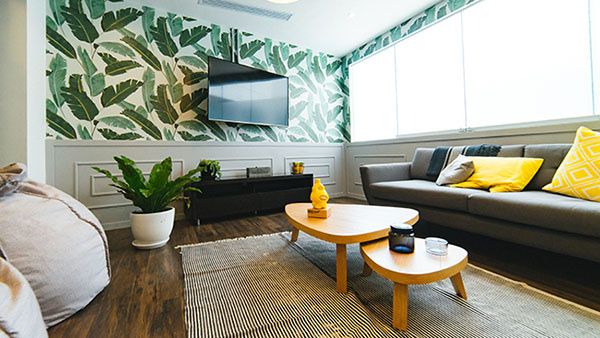 8. A running start
We love a stair runner! There's just something about them that gives out a timeless ambiance.
Despite often being one of the first things visitors see, staircases can often lack character and feel a bit bland. A super alternative to the standard carpet, a stair runner could really enhance the look of your home.
Stair runners can be purchased from high-street stores such as Dunelm starting at of £79, depending on the size and style you choose.
More and more people are jumping on the DIY hype and fitting stair runners themselves.
Here is a step-by-side guide on how to lay your very own stair runner. There are also countless videos dedicated to the project on YouTube.
9. Faux forward
Right, let's all just be honest here… Houseplants are a source of mass disappointment.
We water them, we keep them out of direct sunlight, we treat them with tender love and care… and what do we get in return? An endless stream of dead leaves and wasted money.
Plants add a stunning splash of color to any space. Green is considered a calming shade due to its association with nature.
Don't give up on your green dreams just yet – faux plants are the way forward!
One of the benefits of faux plants is that they are cheaper to buy - check out Ikea's range from £4. As they're virtually impossible to kill, you won't have to replace them every few weeks, saving you even more money.
Try popping an uber-trendy fake trailing plant on the mantlepiece or kitchen shelf to boost your mood and brighten your room.
10. Pretty as a picture
For a personal touch, add your favourite photos to frames and hang them around your house. For a retro feel and real 'wow' factor, use vintage frames. Think intricate gold designs, like this pack of five from Amazon. Imagine how spectacular they would look in your home!
Charity shops are also a good place to find cool, low-cost, one-off pieces.
The FreePrints app allows you to upload and order up to 45 free photos per month. You just pay the delivery charge, which never exceeds £3.99. Ordering your snaps in black and white will also mix things up a bit.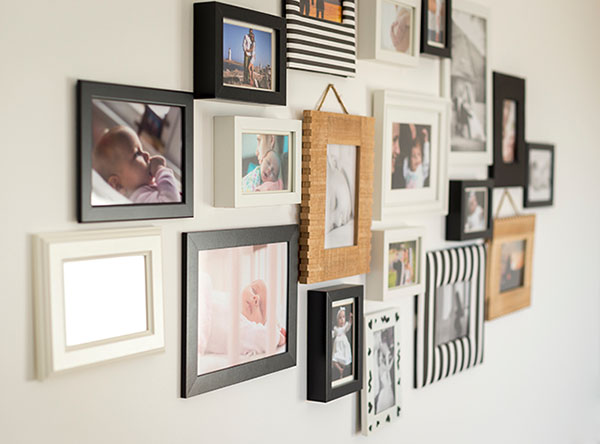 How to save money on the bigger jobs
Brilliant – you've saved up and you're ready to look into that big home improvement job you've been dreaming of!
You've worked hard for this, and you want to make sure the job is done right and that you're getting your money's worth.
Imagine how great it would be if you could also save some money along the way, too.
1. That's what friends are for
Got an uncle with an electrical qualification, or a friend with a van? When it comes to home refurbishments, it pays to gather all the help you can get.
Friends and family will often charge less than a professional (some may even accept payment in beer or chocolate – winner!).
Rather than hire a van, ask your friend to help take parts of your old bathroom to the tip, or see if your uncle would be happy to fit the new spotlights in the kitchen.
You'd be surprised how many people in your circle will rally round to assist, with an array of skills you never knew they had.
2. Host a decorating party
This is actually a lot more fun than it sounds! While it may be more convenient to hire a professional decorator, you can save a lot of money by opting to do it yourself.
Standing in the middle of a bare room with four walls to paint can be really demotivating.
The solution? Invite your mates round and arm everyone with a paintbrush! You will have the job done in no time at all, with a lot of laughs along the way.
Pizza for tea? You've earned it!
3. Keep your options open
When hiring the services of a professional, be sure to shop around for quotes. Don't feel obliged to use the first person or company you find, especially if you think the price quoted is too high.
Set yourself a budget, stick to it, and don't feel under any pressure to go over it.
Checkatrade offer tips on how to spot and source a reliable tradesperson.
4. Break it down
If you've been given a quote, take it away and break it down.
Sometimes, it may actually work out cheaper to do things separately. For instance, the company supplying your new bathroom may charge a lot for installation, but you might be able to find an alternate, specialized installation company to do the job for less.
While it may be easier and more convenient to go with the quote provided and keep everything in one place, you could end up paying more.
5. Shop in the sales
Most of us have seen the TV ads – we're well aware that kitchen companies, sofa stores, and the like often go into sale!
If you can hold out a little while longer, waiting for the next sale to hit could leave you quids in.
6. Handy help
Got a number of small jobs that need doing? It might be an idea to see if a general handyman or woman could help, rather than paying multiple professionals to do several jobs. Putting up a shelf, taking large items to the skip, even assembling flat-pack furniture - everything will get done quicker and at the same time, too.
Handymen and women in your area can usually be found on community social media pages, in local magazines, or via word of mouth.
7. Do it yourself
If it's safe to do so, you may choose to cash-in by attempting certain jobs yourself.
A certain task giving you bother? You can guarantee that there's a YouTube tutorial video for that!
However, there are some jobs you should never attempt. Tasks involving gas and electrics are complex, and can be dangerous, if not fatal. Leave these to the professionals. They are trained and have the right resources and skills to fix or maintain your appliances safely.
8. Shop second-hand
The second-hand market could save you hundreds of pounds on the renovation or redesign of your home.
From tools and dust sheets to furniture and white goods, shopping pre-loved is not to be sniffed at.
You can pick up some excellent deals on sites such as eBay and Facebook Marketplace.
When you've just forked out on a whole kitchen, the cost of a brand-new dishwasher could tip you over budget.
A Beko freestanding dishwasher is priced at £379 at Curry's, whereas the same model – refurbished to very good condition - can currently* be found on eBay for £202.99, equating to a saving of £176.01.
*Product live as of 1st August 2023. eBay is a live marketplace and stock and prices are subject to change.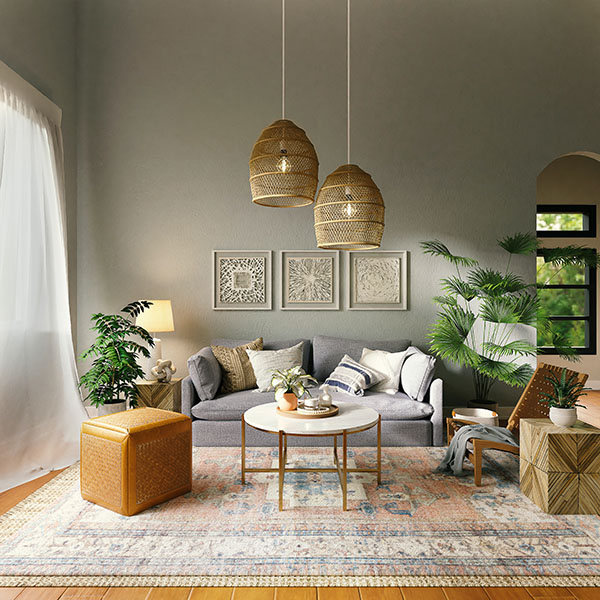 Home sweet home
Now picture the scene: it's a year later, and you're lying on the sofa again. You look around the room and do a little happy dance inside.
There really is no place like home.
Representative example: Amount of credit: £1000 for 12 months at £123.40 per month. Total amount repayable of £1,480.77 Interest: £480.77. Interest rate: 79.5% pa (fixed). 79.5% APR Representative. We're a fully regulated and authorised credit broker and not a lender