How to Save Money When Dining Out - 19 Top Tips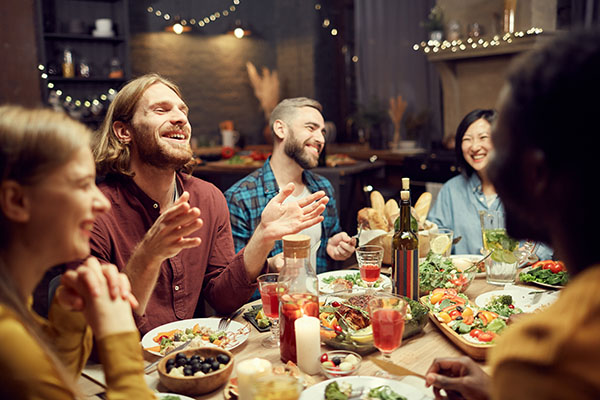 Dining out is a popular pastime in the UK and goes way beyond a hankering for food. From birthdays and work 'do's to promotions and engagements, meals out are our go-to way of celebrating so many milestones and events.
It's undeniably liberating to sit back and have your food made for you.
Restaurants, cafes, and bistros offer the perfect backdrop for us to escape the pressures of day-to-day life, while connecting and catching-up with loved ones and colleagues. When the COVID-19 lockdown lifted, it felt as though every high street in the UK was beautifully bursting with life. Families and large groups of friends spilled out of every restaurant, leaving a trail of laughter and unrivalled merriment in the air.
Despite the rising cost of living, it appears that our nationwide love of dining out is something many of us still prioritise.
65% of Brits say they dine out at restaurants and food outlets to treat themselves, and around 2 in 3 UK adults claimed that, despite rising costs, they would find it difficult to give up meals and drinks out.
Although times are hard, there's no need to completely banish the things that make us happy - we just need to get a bit creative with our savings.
1. Get rewarded!
Are you a diehard Nando's fan, or a loyal lover of Pizza Express?
Whatever your preference, if you regularly dine out at one particular restaurant, you might benefit from signing up to their rewards scheme, if they have one.
Below are a handful of some of the reward schemes currently in place across a range of popular UK chain restaurants.
What you need to do:
Sign up to Nando's Rewards for free, then add your card to your mobile wallet (Apple or Google). You can also request a physical card at any participating Nando's restaurant, subject to availability.
You must register your physical card before use. You can do this here. Digital cards are activated automatically.
You will earn a 'chilli' each time you visit a Nando's restaurant. The minimum spend is £7.
What you get:
After 3 visits (or, 3 chillis!), you will be entitled to a free ¼ chicken, 3 chicken wings, or any starter.
Six visits will earn you a free ½ chicken, or any single burger, wrap, or pitta.
The highest reward is 10 visits (10 chillis), and this offers a free whole chicken, or a meal with regular sides or a salad bowl.
What you need to do:
Download the PizzaExpress Club app.
Register for free.
Use the app to check-in each time you're at a restaurant to earn 'pizza stamps.' This applies to both eat-in and take-out orders, with a minimum spend of £10.
You can even earn stamps with Pizza Express supermarket purchases – simply scan the QR code on the box.
Collect stamps with every visit and unlock rewards along the way. There are three tiers to work your way through, all offering different levels of rewards.
What you get:
Free portion of dough balls when you register.
Bronze tier includes free side dish every time you dine-in or place a collection order; free desert on your birthday.
Silver tier includes free dough balls with every dine-in and takeaway order; a free soft drink or tea/ coffee with every restaurant visit; free classic pizza on your birthday.
Gold tier includes free Romana upgrade; or a free kid's Piccolo meal between Monday & Thursday.
What you need to do:
Download the app and register for an account for free.
Visit any TGI restaurant and scan the QR code at the bottom of your receipt to earn your 'stripes.'
£1 = 1 stripe.
What you get:
Claim a free dessert on your first visit!
As your stripes build up, you can use them to pay for items on the menu.
2. Cash-in with coupons
If you have a meal at a specific chain restaurant planned, it might be worth casting a quick eye over discount sites, such as Groupon, for any relevant offers that could help you save.
For instance, on a random day we checked the site, Groupon were offering coupons for 25% off the final bill at Bella Italia, and 2-for-1 on starters, mains, and deserts at Café Rouge.
Groupon is free to sign up to – just be sure to familiarise yourself with the terms and conditions of the deal before you head out, just in case there are any restrictions to be aware of.
3. Look out for 'kids eat free' deals
'Kids eat free' deals can be a real savings saviour, and many establishments apply extra discounts around the school holidays. Check the websites of your favourite eateries to see if any deals are currently live. A selection of previous 'kids eat free' deals include:
4. Midweek money savers
Fridays, Saturdays, and Sundays are generally thought to be the most popular days of the week to dine out. A number of restaurants offer midweek dining discounts to entice customers in outside of the weekend crush.
Got a meal out coming up with some flexibility on days? To find out if you could benefit, simply type the name of your chosen restaurant into Google, followed by the phrase 'midweek/ weekday dining deals.'
Just one of many examples includes the Hungry Horse 'Two For' meal deal, which runs between Monday and Friday and includes two pub classic mains (from a selection of 13), for a lower, combined price.
5. Enjoy a brunching bonanza
So, you've finally managed to get everyone in the group chat to agree on a date, and a meal out has been pencilled in. You're really looking forward to it, but you're conscious that you don't want to spend a fortune.
How about suggesting a breakfast, brunch, or lunch soiree, rather than an evening thing?
We picked The Botanist as an example to show how dining earlier can save you some money.
| | |
| --- | --- |
| Brunch Menu Option & Cost | Main Menu Option & Cost |
| Smoked trout eggs benedict - £11.95 | The vegan board (V) - £17.95 |
| Ham hock eggs benedict - £10.95 | Crispy Halloumi kebab - £15.95 |
| Smashed avocado on toast (V) - £10.95 | Fish & chips - £15.95 |
| Buttermilk fried chicken waffle - £9.95 | Crispy chicken burger – £15.50 |
| Bircher muesli (V) - £9.95 | Club sandwich - £13.95 |
6. Avoid holiday hype
As we're all too aware, the cost of eating a meal out can absolutely rocket around certain times of the year - Valentine's Day in particular is notorious for this.
During the second week of February, the hospitality industry turns on its charm offensive to tempt us with 'special offers' to impress our special someone with.
Be sure to do some research before you fall head-over-heels for any 'special deals.' If a restaurant is proposing three courses for a set price, check out their normal menu and add up the cost of the individual (or similar) items. You might find that you may actually pay less by ordering separately!
Another way to combat this is to book your meal outside of any momentous events, if possible.
Why not delay your romantic Valentines meal a couple of days and head out a week later instead?
7. Become a mystery diner
If only there was a way to enjoy a meal out and get paid for it…
Believe it or not, there actually IS!
As a mystery diner, you will assess and report back on all aspects of the establishment, from the service to the food. The aim of this is to provide restaurants with valuable feedback on what's working, and what's not.
Generally, the full cost of your meal will be reimbursed, and you may even earn an additional fee on top of this.
The good news is that with some companies, you may have the freedom to mystery dine around your own commitments, making it a nice little side hustle to top-up your income!
For more information on how to become a mystery diner, head over websites such as Mystery Dining by HGEM and iShopFor Ipsos.
8. Go money saver, it's your birthday…
… And you're going to cash-in like it's your birthday!
Many restaurants and foodie establishments offer birthday perks and discounts to customers on their special day.
Here are just a few examples:
Correct as of 31st July 2023.
What you get
Free main meal when you purchase another main.
What you need to do
Sign up to the Las Iguanas newsletter to qualify for this deal.
Your voucher will be emailed to you 7 days before your birthday, and is valid for 14 days.
What you get
Free main meal when you purchase another main.
What you need to do
Sign up to the Zizzi's Zillionaire's Club for free.
Your voucher will be emailed to you on the day of your birthday and is valid for 28 days.
What you get
Free cake on your birthday (on select products. Restrictions apply – see website for further details).
What you need to do
Opt-in to receive marketing communications from Costa.
The voucher will be emailed to you on your birthday, and you have 7 days to redeem it.
What you get
50% off a main meal when you first register your card.
Free main meal when you purchase another main.
What you need to do
You must opt-in for marketing communications.
Your voucher will be sent around your birthday.
What you get
Complimentary glass of wine when you sign-up.
Free glass of champagne for you and your guests on your birthday.
What you need to do
Sign-up to Miller & Carter's newsletter at least two weeks before your birthday and your voucher will be emailed to you.
9. Try your luck!
Out for an anniversary or another similarly momentous event? It might be worth casually dropping it into conversation with your server!
Additionally, some online reservation forms include a section where you can specify if you are celebrating a special occasion.
You never know – you may be presented with a cheeky complimentary glass of wine, or a free round of dessert.
An outlandish tip? Perhaps; if you're lucky enough to be offered a freebie it will be down to the discretion of individual restaurant - but there's no harm in trying your luck!
10. Save your lunch money
At some point or other, most of us have been guilty of spending more than we'd like on office lunches.
Why not get into the habit of taking your own lunch to work? You could even use the money saved to fund your next meal out.
A Tesco meal deal - consisting of a drink, snack, and either a sandwich, wrap, salad, or sushi - costs £3.90. Over the course of five days, this totals £19.50.
That £19.50 could get you a Margherita pizza (£10.90), a side salad (£3.80) a mocktail (£4.20) at Frankie and Benny's!
(Prices correct as of 28th July 2023.)
11. Don't dine on an empty stomach
Dining on an empty stomach produces similar results to food shopping on an empty stomach: you may end up with more than you need driven by hunger pangs! This will often result in wasted food, as well as wasted money.
While lots of us choose to 'save ourselves' for a special outing, it's unwise - for many reasons - to starve yourself in the hours leading up to the meal.
Eating little and often will ensure that you are pleasantly hungry - but not on the verge of passing out – before your meal.
12. Say 'adios' to the appetizers
You arrive at the restaurant, absolutely ravenous. You're handed the menu and are immediately tempted by the appetizer section. Before you know it, you've spent £10 on olives and nachos.
Appetizers are delicious, but the cost can soon add up, especially if you're mindlessly munching while waiting for friends to arrive.
13. Consider alternatives to the 'main event'
Struggling to pick between several yummy starters? None of the mains taking your fancy? There's no rule to say that you can't switch things up a little bit!
Ordering a few dishes from the starter or side sections of the menu could save you money, as well as adding a bit of variety to your palate.
We compared the cost of a few different restaurant options at Zizzi for context
(prices correct as of 28th July 2023).
Option one: One main meal (meat)
Herb-rolled pork belly
Total Cost: £16.75
Option two: One main meal (vegetarian)
Rainbow lasagne
Total Cost: £14.25
Option three: A mixture of smaller dishes (meat)
Pork & garlic meatballs (starter portion) - £7.50
Garlic bread (starter portion) - £5.75
Mixed leaf salad (side portion) - £3.95
Total Cost: £17.20
Option four: A mixture of smaller dishes (vegetarian)
Garlic bread (starter portion) - £5.75
Fried purple gnocchi (side portion) - £5.50
Rainbow Heritage carrots (side portion) - £4.25
Total Cost: £15.50
In this instance, ordering a few smaller dishes works out better value for money. Think of it as creating your very own bespoke tapas!
14. Sharing is caring… For your savings
We all have that one friends who is rather defiant about the fact that they don't share food… You might even be 'that friend' yourself!
We totally get it – there's nothing more annoying than wandering hands pinching a few chips from your plate, but 'going Dutch' on food – such as pizzas or nachos - could help to save you some money, especially if neither of you are overly hungry or unsure if you will finish a full meal.
15. 'Tap' into your savings
Okay, so we know this is a bit of a boring tip, but it might just be one of the most underrated and cost-effective ways to save money on dining out.
All licensed establishments in England and Wales are required by law to provide customers with free tap water, if requested. We are lucky enough live in a country where water is freely available and safe to drink, so there's really no need to fork out on the bottled kind, unless you fancy a bit of sparkling.
Be sure to specifically ask for tap water, or your server may automatically assume you mean bottled: an expensive misunderstanding.
16. Take uneaten food home
We've all been there: hit with that all-too-familiar fullness halfway through the meal. You put your knife and fork down at an angle that suggests you may go back for more later, even though you know full well that you won't. You stare at your dish with a look of contempt. Your half-eaten pizza stares back at you. Deep down, you know it's defeated you, although you don't want to waste food or money.
Solution: ask to take it home!
Most restaurants are happy to box up leftovers for their customers, although some may refuse on the grounds of health and safety (if, for example, the dish contains an ingredient that is unsafe to reheat).
Nothing quite beats last night's cold pizza for breakfast, right?
17. Check your bill
When you're deep in conversation, it can be all too easy to accept the bill and tap your card without giving it a second thought.
There's nothing more annoying than getting home after a meal, checking your online banking app, and realising that you have somehow been overcharged.
It's always worth double-checking the bill for any discrepancies before you settle-up.
18. Don't feel inclined to tip
Tipping: a controversial topic, if ever there was one!
Unlike some countries, tipping is optional in the UK. While it's always nice to reward somebody for doing a great job, remember that you are under no obligation to hand over any extra money on top of your bill. If a server has been particularly outstanding, why not let their manager know, or name them in a TripAdvisor review? The restaurant may have a certain feedback incentive scheme in place.
Service charges are something else to look out for. If you are told about the addition of a service charge prior to your meal, you will be expected to pay it; however, if you are not made aware, you may be able to ask for it to be removed from your bill. Check your bill thoroughly before paying – the last thing you want to end up doing is inadvertently paying a service charge and a tip!
19. Complaint confidence
British people are notoriously bad at complaining. Comedy sketches have long since drawn attention to the bumbling British attempt at raising an issue. It may look a little like this:
A British person orders roast chicken at a restaurant. The food arrives, but is raw in the middle. The waiter is summoned.
British person: "Excuse me, sorry? Um, I'm really sorry, but I think this chicken is raw. So sorry. Thank you."
If you are served food that is less than adequate, you have every right to complain, and you shouldn't feel uncomfortable about it. Dining out isn't cheap, and there are few things more disappointing than paying for a bad meal. This can be so easily rectified.
Complaining doesn't mean that you have to create a big scene; quietly and politely making your point will more than likely mean that you are not charged unnecessarily for an subpar or inedible dish. Most restaurants will quickly rectify such situations, and may replace the food, or deduct money from your final bill.
Meals out on a budget? Piece of cake!
Whether you're having brunch with the girls to celebrate that new job, or a pre-Christmas get-together with the fam, we hope our hints have given you some food for thought on how to save money while still indulging in the good stuff.
Representative example: Amount of credit: £1000 for 12 months at £123.40 per month. Total amount repayable of £1,480.77 Interest: £480.77. Interest rate: 79.5% pa (fixed). 79.5% APR Representative. We're a fully regulated and authorised credit broker and not a lender